Winckler & Co., Ltd. is proud to announce our participation to POWTEX TOKYO 2018,  International Powder Technology Exhibition Tokyo.
During the exhibition, Mr. Jens Roestel will be speaking at Exhibitor's Technical Presentation.
We hope  you would be able to take this opportunity to see our pharmaceutical machinery from Germany.
Date         : Wed  28 – Fri 30, June, 2018
Time        : 9:30 AM – 05:00 PM
Place        : Tokyo Big Sight Exhibition Center
Hall no.     :  East Hall 3
Booth no.:Q-09
---
Exhibitor's Technical Presentation
Theme   :`New Technology Tablet Presses for Multi-Layer, MUPS, Direct Compression'
Speaker    : Mr. Jens Roestel, KORSCH AG
Date and place :
Wed, 28th November,  2018. 03:30 PM~04:00 PM B room
Thurs, 29th November, 2018. 03:30 PM~04:00 PM C room
About   :
This presentation will focus on the newest technologies for multi layer production, including a chip in tablet application, the requirements and the probelematic of MUPS (Multipe Unit Pellet System) tablet production and the challenges of the production of tablets directly from powder, without prior granulation.
Click here for the official schedule.
Machine

KORSCH AG
・ XL400 Tablet press 
The XL 400 MFP (Multi-Function Platform) tablet press offers an innovative and flexible design platform that permits the production of all tablet formats on a single tablet press, including single-layer, bi-layer and tri-layer.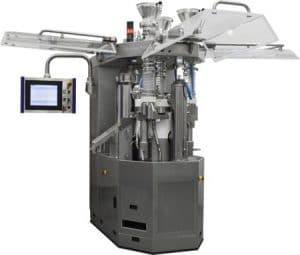 Link to the official exhibition website.
If you have any questions regarding the exhibition,  please contact us.