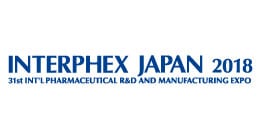 Winckler & Co., Ltd. is proud to announce our participation to Interphex Japan 2018, Int'l Pharmaceutical R&D and Manufacturing Expo.
We hope  you would be able to take this opportunity to see our pharmaceutical and cosmetic machinery from Germany.
Date         : Wed  27 – Fri 29, June, 2018
Time        : 10:00 AM – 06:00 PM  (Ends at 05:00 PM on the 29th.)
Place        : Tokyo Big Sight Exhibition Center
Hall no.     :  East Hall 3
Booth no.: E3-16
---
Machines
A. Berents GmbH & Co. KG (Germany)

Laboratory homogeniser mixer 

・ RW2.5

・ RW60CD

Universal mixer for the production of cosmetics and pharmaceutical products.

Pressure and vacuum resistant boilers with double jackets, homogenisers and anchor stirrers for pilot plants and production plants of capacities between 60 and 10,000 litres.

・RW60CD

groninger & co. gmbh (Germany)

 

   High performance filling and closing machine for vials, glass and plastic bottles

・ KFVG-F5

The bottles are fed in by a feeding conveyor. Vials and glass bottles can also be fed in upright to the conveyor by a turntable.

Max. out put: 4,200 pcs/hour

 

・KFVG-F5

IWK Verpackungstechnik GmbH (Germany)

     Tube filling machine

・  FP34-1

A filling machine that meets the key criteria such as  flexibility, performance and ergonomics. It ensures technical precision, features modern control technologies as well as a high level of efficiency.

・      TZC

The robot arm transfers the empty tubes to the removal area, while lateral guide strips ensure precise positioning.

Max. out put: 300 tubes/hour

・TZC

KORSCH AG  (Germany)

     Tablet press 

The XL 400 MFP (Multi-Function Platform) tablet press offers an innovative and flexible design platform that permits the production of all tablet formats on a single tablet press, including single-layer, bi-layer and tri-layer.

・XL400
Link to the exhibition website.
If you have any questions regarding the exhibition,  please contact us.