CHEESE PROCESSING AND PACKAGING
Hochland Natec was founded in 1974 and operates worldwide as a member of the Hochland-Group. The company manufactures specialized machinery for the production, processing and packaging of processed cheese in forms such as slices, dice and shreds. These machines are available in a range of different performance classes to suit customer's requirements.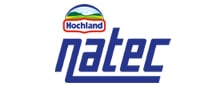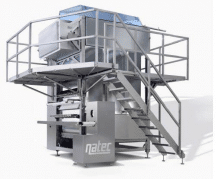 FREESLICE Series
The new Natec FreeSlice is the new generation Slice on Slice (SOS) production system. It will replace the old chill-roll systems. The new hygienic design enables safe and trouble-free production without any danger of re contamination due to its integrated laminar flow system. The CIP system allows very easy and safe cleaning. The sophisticated FreeSlice system reduces the manpower required for operating and cleaning to a minimum.
The new vertical design of the belts guarantees high flexibility in slice thickness and formats and enables sticks, cubes and shreds to be produced in variable sizes.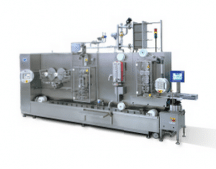 FREEPACK Series
The Natec FreePack machine produces individually-wrapped processed cheese slices (IWS). The Freepack uses a continuously operating production method. Wrapping is done without risk of re-contamination using the hot-fill system. The PP foil used is environmentally friendly and recyclable. Exact sealing ensures the product to be securely wrapped and sealed. The individually-wrapped slices are easy to open. They are of exactly uniform weight and accurately stacked in piles which remain in exact position during transport from the FreePack to the Flowpacker.