FORM FILL SEAL
ERCA S.A., based in France, is amanufacturer of FFS machines (molding, filling, sealing machines). All-round competence from the inventor of "Form-Fill-Seal" (FFS) technology, offering maximum flexibility, reliability and quality. FFS machines for cups, aseptic processes and an extreme variety of shapes bring clear competitive advantages for the customer.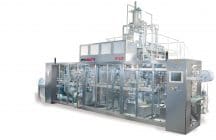 FORM FILL SEAL MACHINE - SERIES EF
The EF form, fill and seal machines are designed to fill a wide range of pasty to liquid products at different outputs and hygiene levels such as clean, ultra clean and aseptic.
More than 2,000 FFS machines have been delivered to many of the world's leading dairy and food manufacturers, including Japan. Every day billions of cups are formed, filled and sealed by EF thermoforming machines.
Models: EF 270 / EF 320 / EF 400 / EF 600 / EF 825