Cheese Wrapping
Corazza, founded in 1954, in Bologna, Italy, is world leading manufacturer of packaging machines for Soup Cubes, Processed Cheese, Butter, Margarine and Yeast. The company has focused on a wide range of equipment covering all market capacity requirements, marketing oriented technical solutions, prompt and reliable customer service to solve the problems linked to the whole machines life. Throughout the years Corazza has installed more than 3000 machines in 75 Countries.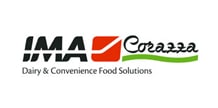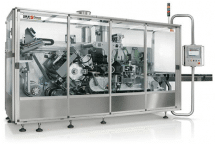 FF4 - Dosing and wrapping
The new FF4 is a cartoning and wrapping machine for triangular portions of processed cheese in round boxes. A smartly designed, compact, high-speed dosing & wrapping machine for cream and processed cheese portions, the FF4 ensures precision dosing, and up to 600 portions/minute. The key feature of the FF4 is the clever cantilever design which saves space and enables ease of access for all maintenance requirements, also significantly reducing time required for cleaning.