Message from the Representative
When Jakob Winckler arrived here from Germany in 1870, shortly after Japan opened its doors to foreign trade, he would have been proud to know that Winckler & Co., founded by him in 1885, would still be serving customers in Japan about 150 years later. We are honored to be one of the oldest German trading companies still active in Japan today.
Still maintaining offices in the port cities of Yokohama, Nagoya and Kobe where trade in Japan originated, we have withstood the Meiji, Taisho, Showa and Heisei eras with their World Wars, major earthquakes and depressions resulting from economical events. From the early days, when we were a major exporter of various goods produced in Japan to Europa and the Americas we have evolved to an importer of advanced machinery from Europe. We specialize in the fields of food, pharmaceutical and cosmetic processing and packaging machinery as well as equipment and plants for printing and plastics.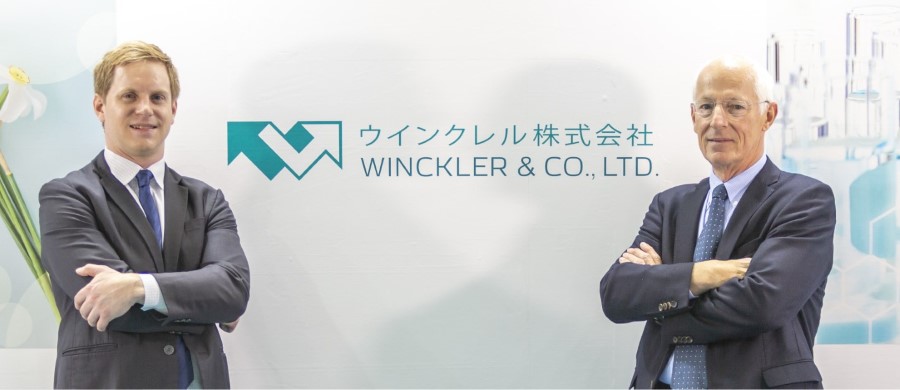 Our principals belong to leading machinery manufacturers in their respective fields with whom we have built solid relationships over many years. Our English and German speaking staff (sales, technical and assistants) allow us to convey the profound and complex wishes of our customers to the machinery suppliers, always keeping in mind the idea of Japanese perfection. There are only 2 levels in Japan – G or NG (good or not good). And G is our goal! Every customer in Japan, be it a major market leader or a small specialist expects top service. With more service technicians than sales staff – covering the whole spectrum from mechanical, electrical, programming work to project management, we are proud to put service in the forefront of our activities.
We look forward to continue to do our part in introducing new technologies and products to the Japanese market in aiming to reach the next milestone of our company's history in Japan.

Robert Selig
Cristopher Selig
WE ARE HONORED TO BE ONE OF THE OLDEST GERMAN TRADING COMPANIES STILL ACTIVE IN JAPAN TODAY.